Engage App
You work hard to craft engaging lectures for your students. Win their attention—and keep it—with Engage, the first in a new generation of student engagement tools.
---
Engage instantly transforms any smart device into a multi-purpose course companion that lets students follow along with lecture slides and videos, tracking their retention as they go.
More secure, cost-effective, and reliable than other options on the market, Engage contains all the functionalities you've come to expect from a classroom app—from live quizzes and thought-provoking class polls, to opportunities to ask questions in real-time and more.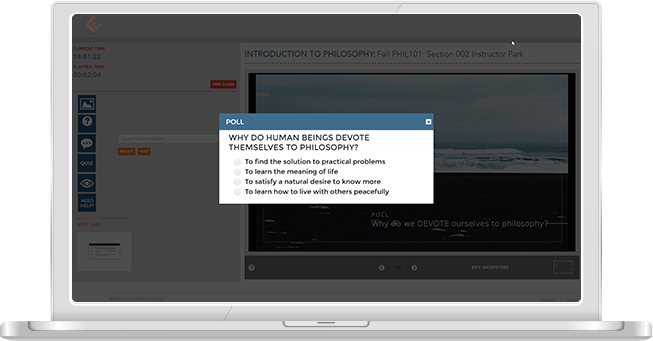 ENGAGED instructors:
Cast their dynamic lectures, videos, polls, and quizzes onto student devices via a simple downloaded app.
Have instant access to student questions and suggestions; display and answer as many or few as suits their purposes.
Track attendance accurately through a combination of GPS technology and WiFi.
Spend less time troubleshooting outdated clicker technology.
Enjoy LMS sync for attendance records, quiz grades and poll results.

ENGAGED students:
Seamlessly follow lectures with screen sync.
Take comprehensive notes directly in the app; associate notes with relevant slides and videos.
View attendance and participation records.
Submit pressing questions as they arise; rate the questions of their fellow students.
Provide instant feedback to instructors through periodic comprehension checks and polls.
Consistently attend lectures and come to class ready to learn—and engage.