GRL's New Class Engagement Tool
You work hard to craft engaging lectures for your students. Win their attention—and keep it—with GRL's Engagement tool, the first in a new generation of student engagement applications.
---
Instantly transform any smart device into a multi-purpose course companion that lets students follow along with lecture slides and videos, tracking their retention as they go.
More secure, cost-effective, and reliable than other options on the market, this classroom engagement tool contains all the functionalities you've come to expect from a classroom app—from live quizzes and thought-provoking class polls, to opportunities to ask questions in real-time and more.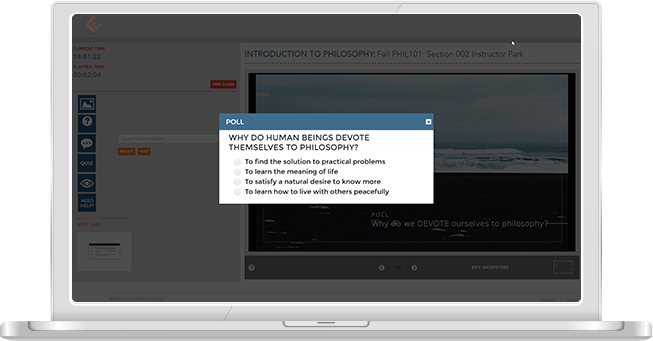 ENGAGED instructors:
Cast their dynamic lectures, polls, surveys, comprehension checks, and quizzes onto student devices.
Seamlessly provide students with video and/or audio overlays to presentation slides.
Have instant access to student questions and suggestions in real time.
Close loopholes and more effectively track attendance through a combination of GPS and Wi-Fi technology.
Appreciate accessible and attentive tech support.
Enjoy LTI integration with their LMS.

ENGAGED students:
Seamlessly follow lectures presentations on their individual devices.
Have access to presentation slides with video and/or audio content.
Submit questions in real-time; and agree with questions submitted from fellow students.
Provide instant feedback to instructors through periodic comprehension checks and polls.
View attendance and participation records.
Consistently attend lectures and come to class ready to learn—and engage.